What is Christmas Food to Order?
This is not just fuss-free Christmas food. This is M&S Christmas Food to Order, our delicious food service, created to make entertaining easy. Go from the main event to Boxing Day and on to New Year's Eve in style with our irresistible selection of quality dishes, from showstopping turkeys to moreish desserts.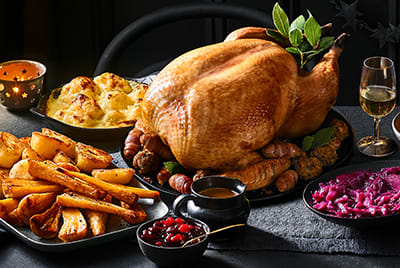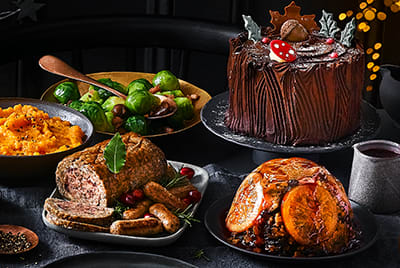 HOW IT WORKS
BROWSE

Create the perfect spread for your festive celebration with our Christmas Food to Order range now. We have an array of turkeys, trimmings and delicious desserts designed just for you.

ORDER

Make sure you place your order for your Christmas feast before 5pm on 15 December. Either order online or go in store and complete an order form – it's that simple.

COLLECT

Choose your pick-up day and we'll have your food ready in your selected store* (just bring your order summary and bags to carry your Christmas feast home).
Frequently asked questions
When should I order?
If you order before 10 November 2019 and spend £85 or more, you will receive a free bottle of wine or box of chocolates. Remember, unless specified, your product will be fresh for Christmas Day and New Year's Eve (see below for more details).
The final day you can order for Christmas Day or New Year's Day is 5pm on 15 December 2019.
When can I collect my purchase?
On 22, 23 and 24 December 2019 for your Christmas celebrations, with 22 December being the least busy day. New Year's orders can be collected on 30 and 31 December. Look out for your reminder email closer to the time to be reminded of your time and date for your order!
What is your freshness guarantee?
Unless specified, products ordered for Christmas will stay fresh until at least Boxing Day, regardless of the day you collect them. Products ordered for New Year will stay fresh until at least 1 January 2020.
What do I need to take with me for collection?
Remember to bring your order summary, and if you placed your order online please show us a printout of your confirmation or the email on your phone. For orders placed in store, please bring your order summary and the receipt of your deposit. Also, don't forget to bring some bags to carry your delicious items home.
Will I be charged if I don't collect my items?
If you don't collect your order, we may have to charge you a proportion of the price to cover our costs, which may be more than your £30 deposit.
How can I amend my order?
Orders can be amended or cancelled by calling 0333 014 8222 before 5pm on 10 December 2019, subject to product and collection time availability.
Do you have gluten-free and vegetarian options?
We certainly do. Check out the dietary section of our website designed specifically for you, with gluten-free and vegetarian options. Alternatively, we have marked each product that is gluten-free, vegan and vegetarian online, as well as in our Christmas Food to Order brochure, to make it easy when choosing your products.
For any other questions or queries please contact us and we'd be happy to help.
Shop Christmas Food to Order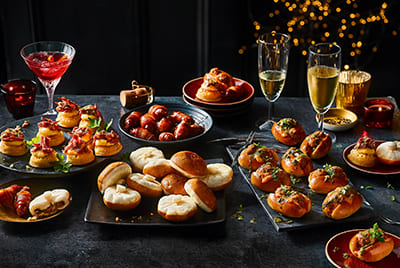 Festive treats
The Christmas party season starts well before the big day, so don't forget to buy your spread of canapés, savoury bites and sweet treats from our year-round Food to Order service. It's delivered free to your nearest store, for stress-free entertaining, guaranteed.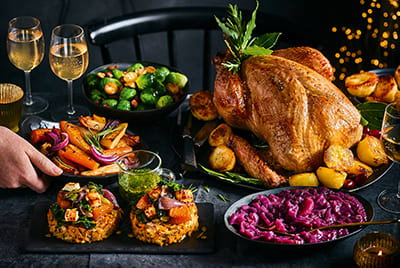 Celebrating Christmas early?
You can pre-order selected seasonal favourites at marksandspencer.com until 15 December and collect them between 6 and 20 December if you are planning an early festive feast.
*Read our full terms and conditions here.