A kid's Christmas
We all know deep down that Christmas is really about the little ones – so make it their most magical yet with our top foodie picks and recipes made for mini masterchefs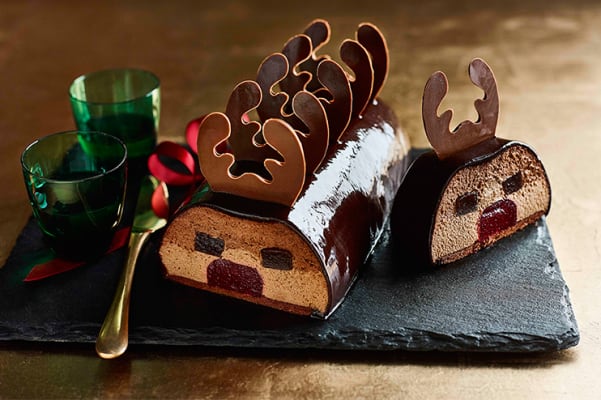 A festive red nosed reindeer
It doesn't get much more festive than an appearance of the world's most famous reindeer, which is why our product developers have come up this fun chocolate pudding. Made with lashings of creamy chocolate mousse and covered in a shiny mirror glaze, the kids can get help to decorate it by attaching the carved chocolate antlers to the dessert.
For added sweetness, try melting squares of milk or dark chocolate in a pan of warm milk and topping with mini marshmallows and whipped cream for a hot drink to sip alongside it.
Get your own reindeer
Ideas for mini chefs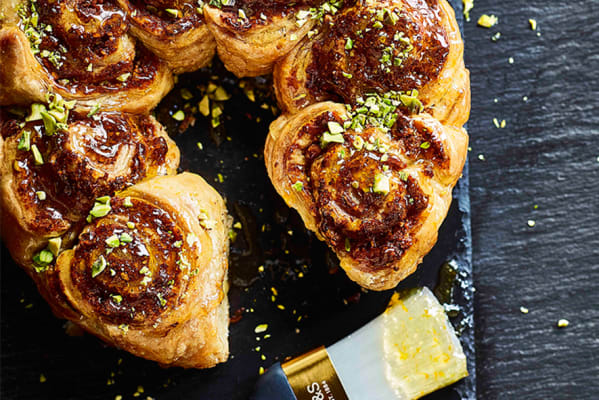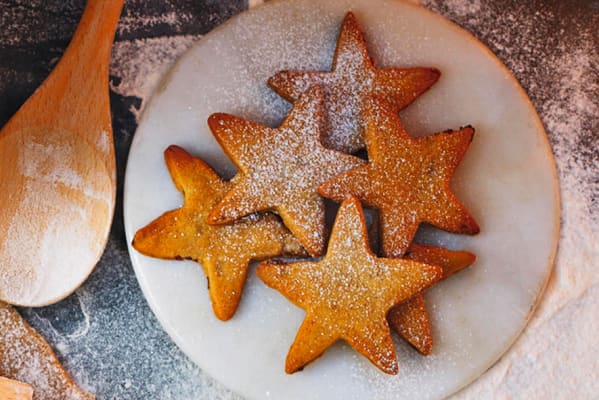 Orange & pistachio buns
Prep time 20 minutes • Cook time 45 minutes
50g pistachios, crushed, plus extra to decorate
50g soft brown sugar
1 tsp ground cardamom
Zest 1 orange
1 sheet puff pastry
30g butter, melted and cooled
For the glaze:
Zest 1 orange, juice of 2
150g caster sugar
Preheat oven to 210ºC/190ºC fan/gas 7. Grease a 20cm round cake tin. Combine the pistachios, sugar, cardamom and orange zest.
Lay the puff pastry on a lightly floured work surface and brush with the butter. Sprinkle over the pistachio mix and press into the pastry. Roll up the pastry into a tight tube, starting at one long side. Slice into 8 x 2.5cm rounds.
Place the rolls around the inside edge of the cake tin, leaving 1cm between each. Bake for 40-45 mins, until crisp and golden.
Meanwhile, make the glaze. In a heavy-based pan, bring the orange juice, zest and sugar to the boil then simmer for 5-10 mins, until the sugar has dissolved and the mixture thickens. Set aside.
Leave the buns to cool for 5 mins, then remove from the tin. Brush with the glaze while the buns are still warm. Sprinkle with crushed pistachios.
Gingerbread window biscuits
Prep time 25 minutes • Cook time 12 minutes
200g Gingerbread Mix
8 boiled sweets (in colour of your choice)s
Make the gingerbread mix according to packet instructions, wrap in cling-film then place in the fridge.
Place the boiled sweets in a strong plastic bag and bash with a rolling pin to crush.
Heat the oven to 170°C/190ºC fan/gas 3 and line baking sheets with baking paper.
Roll out half the dough (keeping the remainder in the fridge until needed) on a lightly floured surface or parchment, to a thickness of about 4mm.
Cut out shapes with a biscuit cutter and transfer to one of the lined baking sheets.
Use a smaller cutter to cut out shapes in the centre of each biscuit. Re-roll any scraps of dough to cut out more shapes then repeat with the second half of the dough.
Place crushed sweets in the centre of each dough shape, then use a drinking straw to pierce a hole at the top (so that you will be able to attach a ribbon later).
Bake for 10-12 minutes, until golden.
Leave the biscuits to cool on the tray until they harden, before gently lifting on to a wire rack to cool completely.
When ready to hang, loop coloured ribbons through the wholes made in each biscuit, tie, and hang on your tree.
Sweet treats they'll love
Perfect pairings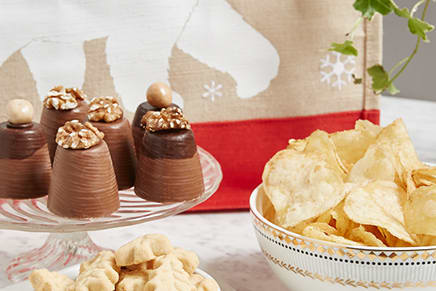 Something for everyone
Whether it's a post-lunch TV binge on the sofa or a Christmas Eve with fiercely fought board games, snacks are essential. Please everyone this year with our family favourites hamper – all wrapped up in a smart polar-bear-printed hessian sack.
Head to our main site to see our full range of festive foodie hampers. Don't forget to complete your purchase before you click away as you may lose your basket of Christmas Food to Order.