Boxing day and beyond
The celebrations don't stop at Christmas lunch. Get ready to carry on celebrating through to Boxing Day and beyond with our post-big day feasting ideas and NYE party starters
Something for centre stage
Our show-stopping beef pie with its impressive bone marrow decoration was made for your Boxing Day table. Made with British beef and finished with a bone marrow and smoked bacon gravy, it pairs perfectly with leftover roast potatoes and sprouts. Just make some fresh gravy on the day with a splash of red wine and some roasted red onions.
The gift that keeps on giving
Who can resist the arrival of the cheese course? Especially when it's a whole baby stilton making an entrance. Made in Coulston Bassett in Nottinghamshire, this wow-factor truckle serves 40 people, so will keep guests going all the way through until New Year. Why not try serving it with frozen grapes and candied walnuts – lightly sprinkle walnut halves with water before shaking over two tablespoons of sugar and baking in the oven until golden at 180 degrees C.
How to transform your leftovers
Turkey
Help-yourself salad: Mix shredded turkey with salad leaves, crispy bacon and citrus fruit. Add nuts and pomegranate seeds, then drizzle with yoghurt or a zesty vinaigrette.
Thai-style noodles: Stir-fry shredded turkey with red onion, green beans, chilli and garlic. Add lime juice and Thai fish sauce, then cooked rice noodles. Top with mint and coriander.
Turkey burritos: Pile hot shredded turkey, sweetcorn, spring onions, black beans, chilli sauce and cooked rice in wraps with avocado and grated cheese.
Cheese
Mac and cheese: Add a little crumbled stilton to your cheese sauce to give this comfort-food classic a tangy edge.
Cheese on toast with a twist: Spread soft goat's cheese onto toasted baguette slices and serve with soup.
Combine soured cream, buttermilk and mayonnaise, then mash in a handful of blue cheese with a dash of lemon juice – just the job for perking up green leaves.
Christmas Pudding
Sweet fry up: Fry small bites of pudding until hot and crisp and serve with brandy butter.
Special sundae: Top a scoop of vanilla ice cream with warmed, crumbled pudding, sweet sherry, chopped nuts and melted chocolate.
Truffles: Blitz slices of pudding in a food processor until crumbled, then stir in melted chocolate and sherry and roll it into balls. Decorate with melted white chocolate and a glacé cherry to look like mini Christmas puddings.
Chocolate
Brioche sandwich: Make a sweet sarnie by slicing a brioche loaf into rounds and layering with pieces of chocolate. Warm in the oven until the chocolate has melted.
Quick chocolate milk: Blitz a selection of filled chocolates in a blender with milk for a deliciously moreish milkshake.
From-the-fridge squares: Melt squares of plain chocolate in a heatproof bowl and stir in crushed plain biscuits, leftover nuts and dried fruit, then chill for an easy rocky road.
Three picks for new year's feasting
Perfect pairings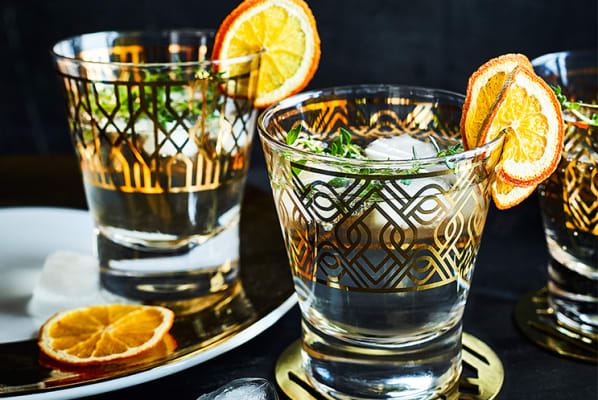 Get in the Christmas spirit
For a New Year's Eve to remember, all you need are some exceptional drinks to pair with your party picks. Bubbles are a brilliant place to start, but if you want to serve up something a little bit different, why not try some of our new The Collection spirits. The Jamaican single estate rum is aged in Cognac and bourbon barrels to give hints of tropical coconut and vanilla, while our seven-times distilled vodka is filtered through charcoal for an exceptionally clean finish.
If you love a gin and tonic, sip our oak-aged gin, which is distilled with 22 botanicals and aged for five months to create a complex flavour and golden hue. For a speedy cocktail garnish, dry orange slices out in a warm oven and fix with a thyme sprig on the edge of your glass.
Head to our main site to see our full range of festive spirits. Don't forget to complete your purchase before you click away as you may lose your basket of Christmas Food to Order.