How to choose your turkey
From whole birds to easy-carve crowns, find the perfect centrepiece for your festive feast with our turkey guide. Whichever you choose, we can trace all our British birds back to the farm they came from
Whole turkeys
If you're a stickler for tradition, a golden-skinned, whole bird makes a magnificent centrepiece to your Christmas dinner. If you're feeding a crowd, and you like a choice of different cuts, from darker leg meat to tender breast, it's the perfect choice. You'lll most likely have plenty of leftovers, and buying a bird on the bone means you can make a batch of stock: perfect for a bowl of restorative turkey broth.
Turkey crowns
A boneless crown is the ultimate fuss-free choice: it has a shorter cooking time, is easy to carve, and includes plenty of white breast meat (in other words, turkey sandwich heaven!). A crown is simply a joint of white breast meat on the bone, with the wings and legs removed. Its smaller size is handy if you're worried about oven space on the big day. Our birds come ready to cook in a foil tray, and because they're slow-grown, the meat stays wonderfully juicy and succulent.
Stuffed boneless joints
Are you nervous about cooking Christmas dinner, or just want to enjoy a relaxing day with a little less kitchen prep, a little more time spent sipping a glass of bubbly or two? Our boneless whole turkey and breast joints are just the thing: easy to carve, beautifully presented and ready to cook in a foil tray. Whether you go for one of our stock-based, pre-stuffed birds, or a simple deboned whole turkey, you can't go wrong.
Why our turkeys are the best
Responsibly sourced

Every one is traceable back to British farms specially selected by us, so you can rest assured that you're getting top quality.

Expertly prepared

They're pre-prepared by our skilled butchers and ready to pop in the oven – some even come in a convenient foil tray.

Full of flavour

Whether it's a whole free-range organic bird or a breast joint, our turkeys taste delicious, from the tender meat to the crispy skin.
Meet the farmer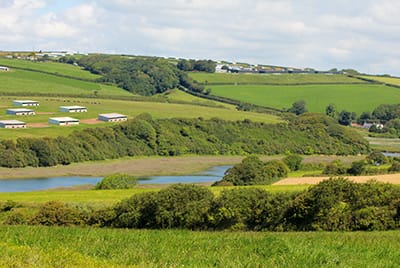 Brilliant British birds
Our free-range Pembrokeshire Bronze turkeys are reared exclusively for us by Justin Scale – the fifth generation of his family to farm his 400-acre site in the heart of the Pembrokeshire Coast National Park. It's the perfect spot for the birds to forage freely on land covered with clover, herbs and wildflowers. Lots of factors combine to ensure Justin's Pembrokeshire Bronze turkeys are the very best. A temperate climate and lush, free-draining pastures make the farm an ideal environment for the birds. It provides them with a rich diet of cereal, clover and herbs that gives their meat unrivalled flavour. Justin's Pembrokeshire Bronze turkeys are slowly grown in line with strict M&S welfare standards, to reach full maturity – adding to their superb depth of flavour and exceptional succulence.
Sensational sides