Your Christmas lunch
Whether it's your family tradition to serve up a burnished turkey with all the trimmings or a succulent fish or meat joint, Christmas lunch is the festive main event. Our handy prepping tips and stylish serving suggestions will help you make it through the potentially manic day with a touch of magic
Start with the centrepiece
For us, the journey for the perfect turkey starts months ahead, on Justin Scale's small farm in the lush fields of the Pembrokeshire Coast National Park. Our turkeys are slowly grown and set free to forage on clover-strewn pasture that's rich with herbs and wild flowers, which gives the birds a beautifully succulent and rich depth of flavour.
Serve up something special
It's easy to add your own festive flavour to turkey. Why not try laying peeled and thinly sliced orange slices on top of the turkey crown. Fix in place with cloves for an added spicy kick.
Alternative family feasts
Go fish
If you're looking for a fresh change this Christmas, try our beautifully presented The Collection Scottish monkfish tail wrapped in pancetta. Responsibly caught in the cold waters of Scotland, filled with a zingy tomatade stuffing and wrapped in crispy pancetta, this meaty fish will satisfy even the most dedicated of carnivores. Pair it with a simple homemade side dish by pan-frying a sliced fennel bulb in a glass of white wine with the lid on until tender. Stir in crème fraîche to finish.
Try beef
You can't go wrong with a tender joint of beef for your family table, especially when it comes to our The Collection prosciutto-wrapped rump with horseradish. A boneless joint (for added easy-carving on the day) and basted in peppery horseradish for an added kick of flavour, this would also be a great option for Boxing Day and goes brilliantly with the honey-roast parsnips in our luxury vegetable selection.
Eat veggie
Gone are the days when a dry nut roast would suffice for the vegetarian option. Serve up a real showstopper instead this year with our baked ricotta stacks topped with mushrooms, leeks, kale and a creamy white wine sauce. Complement all those rich flavours with our sweet and tangy red cabbage braised with Bramley apples.
Our top picks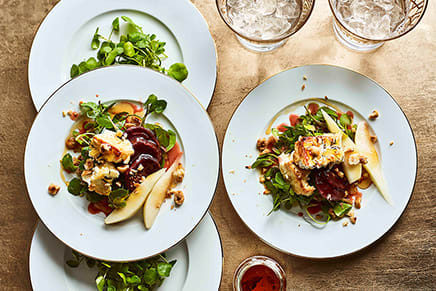 Recipe: Pear and baked feta salad
Start as you mean to go on with a showstopping starter
Prep time 15 minutes • Cook time 15 minutes • Serves 4 as a starter
Ingredients
200g pack feta
2 thyme sprigs, leaves picked
25g hazelnuts, lightly crushed
2 small cooked and peeled beetroot, thinly sliced
2 tbsp sherry vinegar
1 tbsp olive oil
1 tsp Dijon mustard
250g watercress
2 Conference pears, peeled, cored and cut into 8 thin wedges
1 tbsp truffle honey
Method
Preheat the oven to 220ºC/200°C fan/gas 7. Place the whole feta onto a baking tray and scatter over the thyme leaves and crushed hazelnuts. Bake in the oven for 10-12 mins until the feta is golden around the edges and the nuts are toasted. Remove and leave to cool slightly.
Mix the beetroot with the sherry vinegar, olive oil and Dijon mustard, and set aside.
Carefully break the warm feta into rough pieces. Divide the watercress among four plates then arrange the feta, beetroot, nuts and pear on top.
Spoon over some marinade from the beetroot, then finish with a drizzle of truffle honey.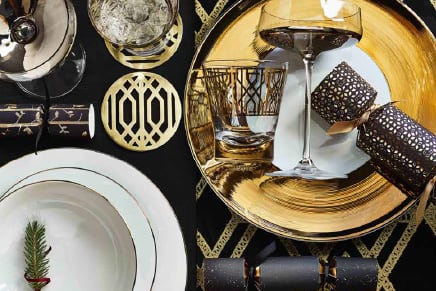 How to decorate your Christmas table
Give your table as much love as you do your Christmas tree with our suggestions for a stylish set up. Start by choosing an accent colour – we like gold – for accessories such as place mats and napkin rings. Team with white plates, and bring in your own personal touches with ribbon-tied bunches of foliage and hand-written name tags. Head to our main site to discover our opulent range of homeware, including gold-lined champagne saucers, metal coasters and luxury crackers.
Don't forget to complete your purchase before you click away as you may lose your basket of Christmas Food to Order.